July 2020 ART NEWS from Diane Jacobs
Finding solace in Mother Nature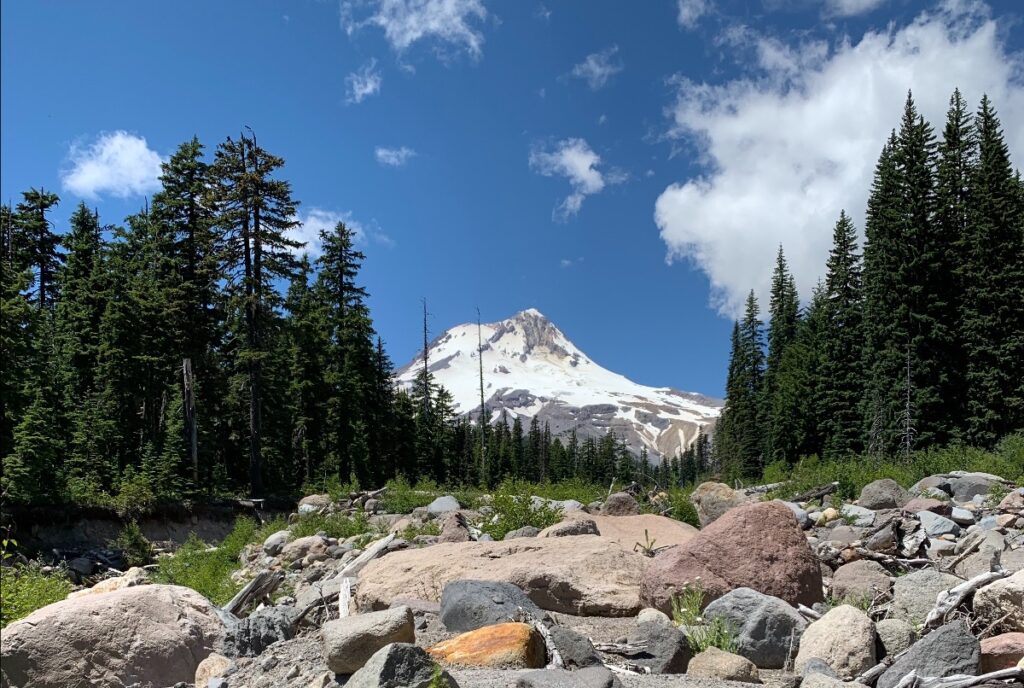 In this email:
BLACK LIVES MATTER
COVID-19 wear a mask
Shutting, halting and canceling Pipeline construction
Oregon Art Commission/Ford Family Foundation Career Opportunity Grant
Owed to the Mountain artist book project – stories, prints, Ecoprints
The Storyteller Issue: Leaf Litter #8
The Art of the Book – Seager/ Gray Gallery – Interwoven Alphabet
Grappling with the Grumblies video
Free Mount Hood Campaign Committee
The November election
My artist book, REP-HAIR-ATION of 2007 was inspired by reading Angela Davis's book Abolition Democracy.
I wanted to magnify that this nation was built on white supremacy and the enslavement of Africans and how it has been perpetuated in the aftermath of slavery in the form of the prison industrial complex. In the project, I "emancipated" the dollar bill from the slaver George Washington. I turned the world upside down and cut the blonde braid to symbolize the end of white supremacy. Reparations have never been made to African Americans whose ancestors were held in bondage and forced to work without pay. As Nikole Hannah-Jones points out "Slavery and the 100-year period of racial apartheid and racial terrorism known as Jim Crow were, above all else, systems of economic exploitation". I urge you to read the entire June 30th New York Times Magazine article WHAT IS OWED If true justice and equality are ever to be achieved in the United States, the country must finally take seriously what it owes black Americans by Nikole Hannah-Jones.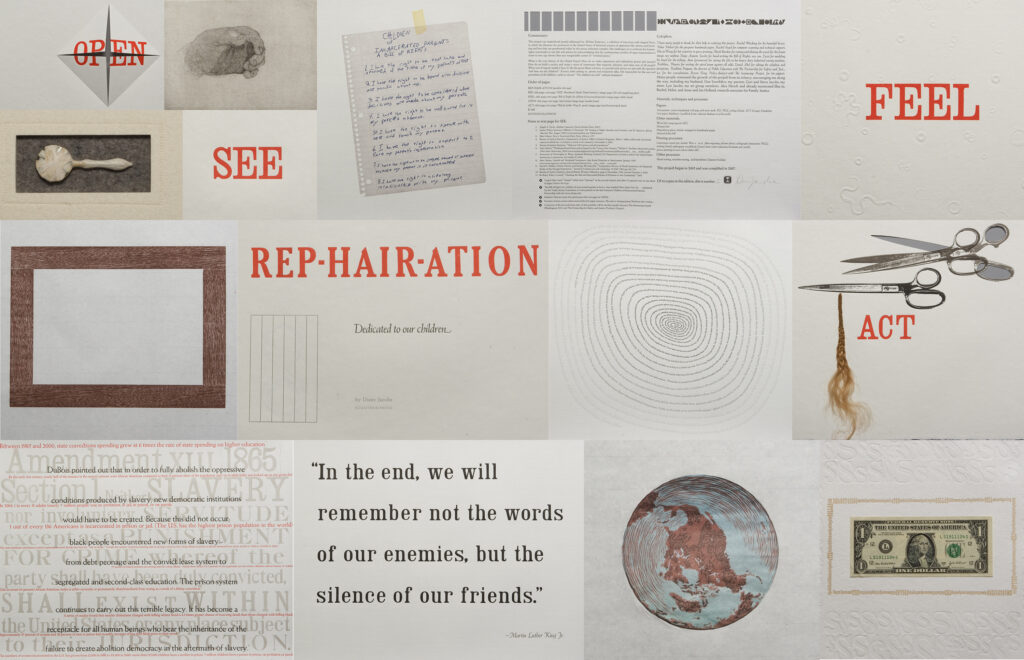 These months of uncertainty with the global pandemic of COVID-19 raging across the globe and striking hard here at home and disproportionately impacting and killing people of color coupled with the murder of George Floyd by police amplifies racial and economic injustices with indisputable clarity. The BLACK LIVES MATTER movement, which ignited protests across the nation and the world demanding accountability, has had great momentum. We must keep the pressure on so that there is real systemic change – right the wrongs by bold actions.
"If you have come here to help me, you are wasting your time. But if you have come because your liberation is bound up with mine, then let us work together." – Aboriginal activists group, Queensland, 1970s via Dr. Lilla Watson
I wear my mask to protect you and you wear your mask to protect me.
Thank you Malcolm X for your words of wisdom!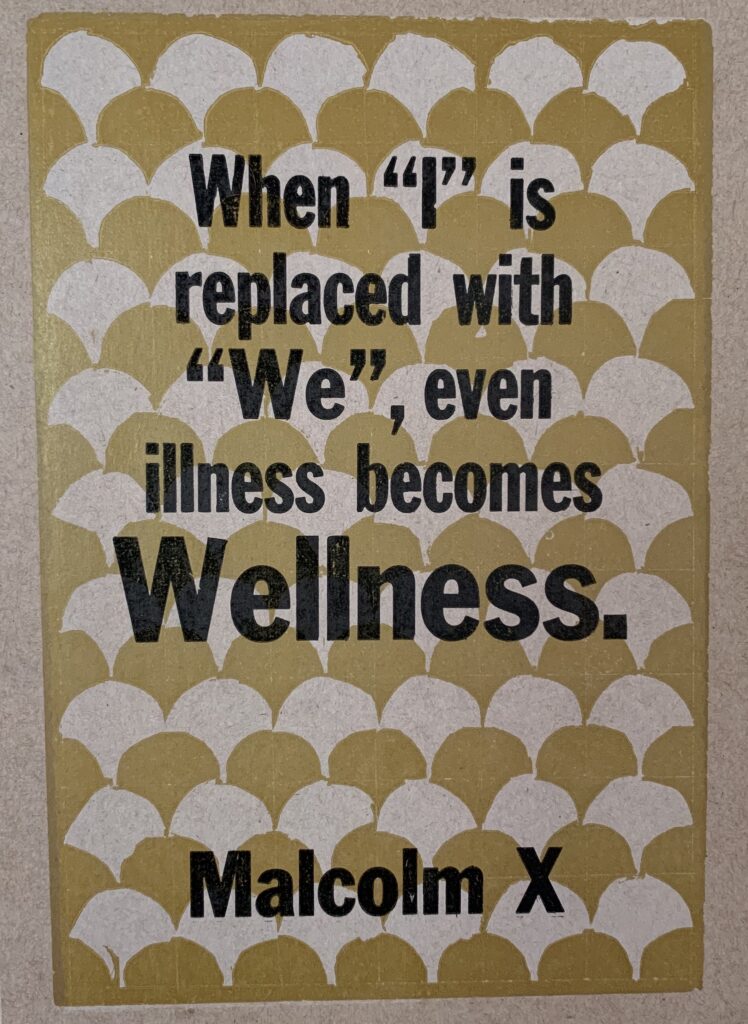 Rays of hope thanks to powerful Indigenous-led movements across the country to protect water and land:
A huge victory was won by the Standing Rock Sioux Tribe, the Cheyenne River Sioux Tribe, and their legal team at Earth Justice. The federal court ruling ordered the controversial Dakota Access Pipe Line to be shut down and emptied of all oil by August 6, 2020. The shutdown will remain in place pending completion of a full environmental review, which normally takes several years, and the issuance of new permits. Another environmental victory – Judge Morris's rule disrupts the plans of TC Energy to build the Keystone XL pipeline because the government violated the Endangered Species Act by failing to adequately consult with federal wildlife agencies. In addition, Dominion Energy and Duke Energy announced Sunday, July 5 the cancellation of the Atlantic Coast Pipeline. Read more about it here on Friends of the Earth website. As Madonna Thunder Hawk of The Lakota People's Law Project stated: "The trend away from fossil fuels is becoming stronger with each passing day."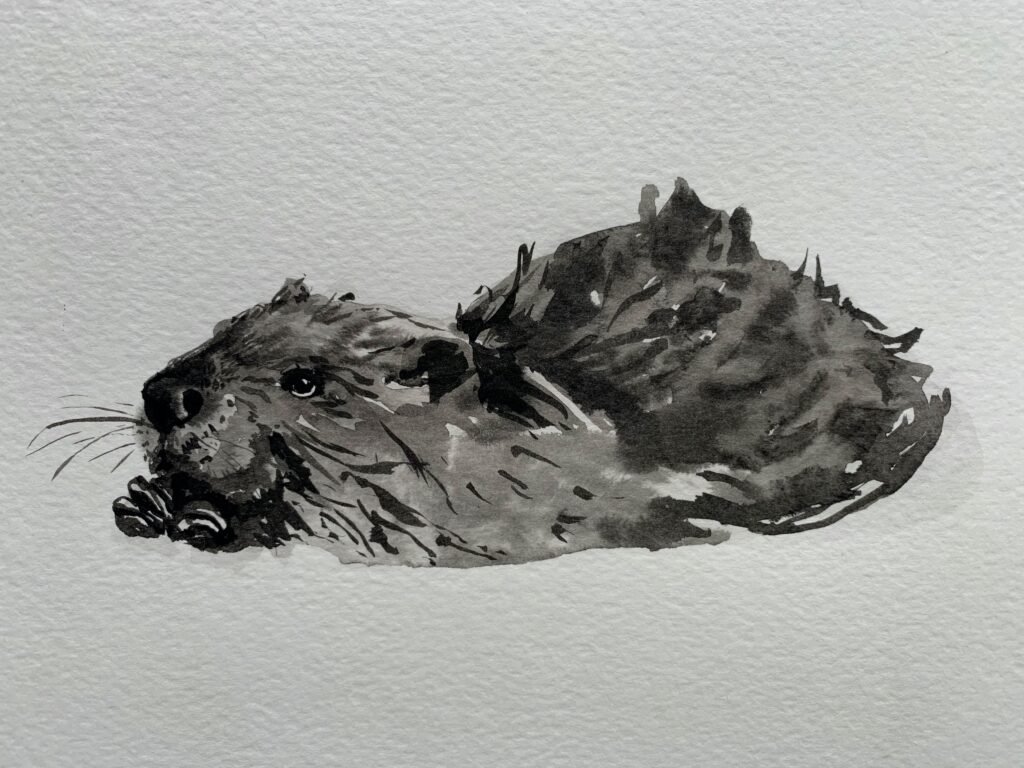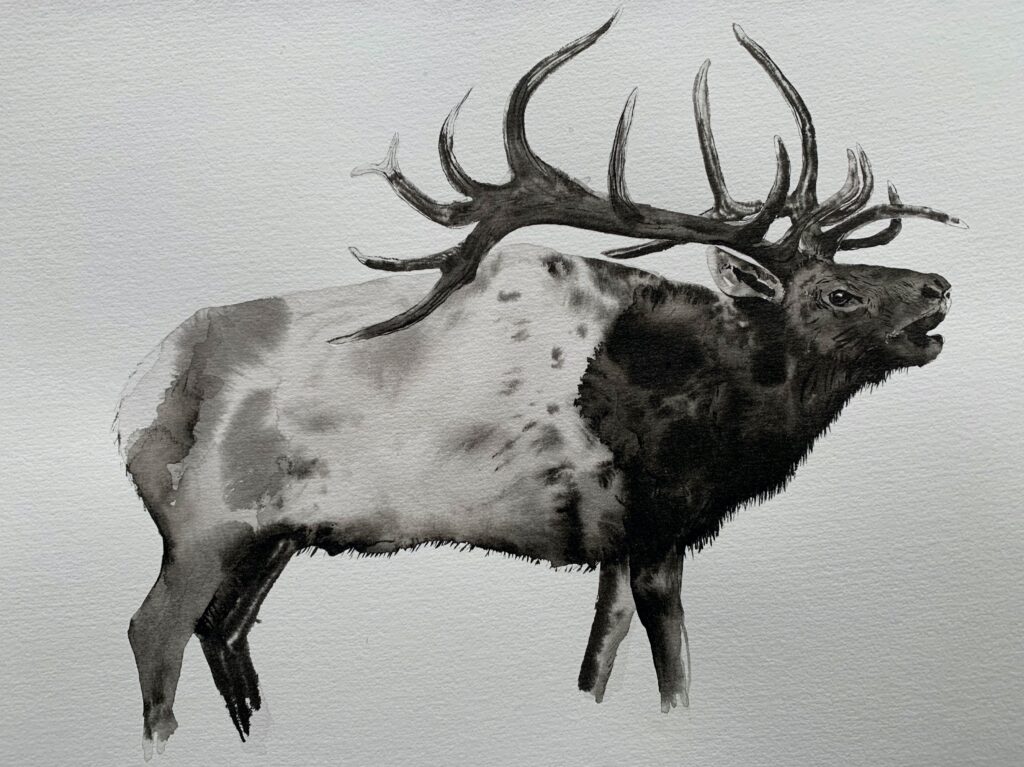 In early March I submitted my application for an Oregon Art Commission/Ford Family Foundation Career Opportunity Grant for my artist book project Owed to the Mountain. Hip hip hooray I was partially funded! This money will pay for printing costs as well as help cover the costs of reproducing this book digitally in an edition of 100 copies. The book and my big sculptural rendition of the project is scheduled to be on display at Passages Bookshop in Portland in January 2021. This is contingent on many factors due to the pandemic that are out of our control. I am hoping to attend the 2021 CODEX VIII International Book Fair scheduled for May 2-5 of 2021 in Richmond, California. During the summer months of 2021 a traveling exhibition Extraction: Art on the Edge of the Abyss will also be featuring artist's books dealing with our climate crisis.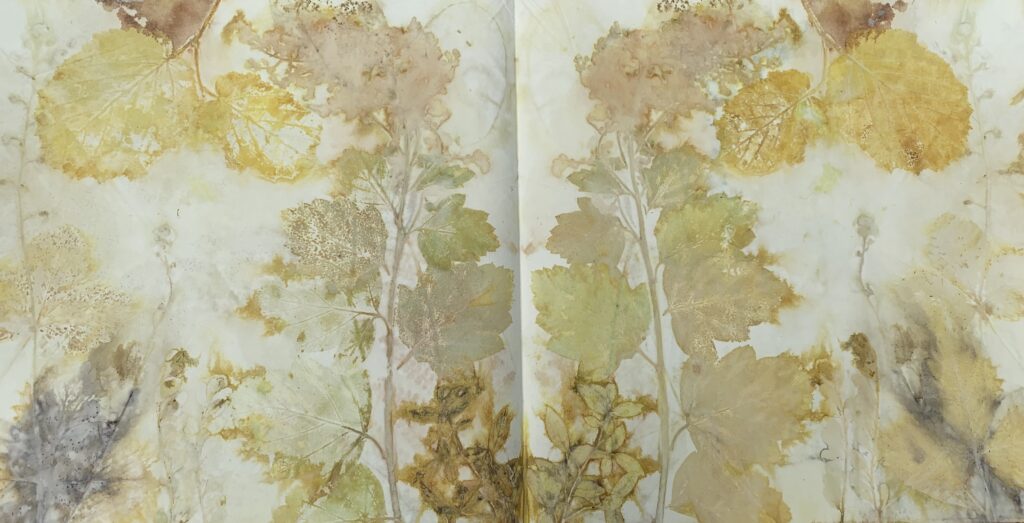 For the past couple months I have been experimenting with ecoprinting. This is a technique where you take actual plant material to stain or dye the paper by using pressure, moisture, and heat. Thank you Katherine Shiver for guiding me in the process. I will be using these unique sheets as end pages for the book. I am learning which native plants found on Mt. Hood print well, what colors they impart and whether or not to try using iron, copper, alum sulfate or alum acetate to alter the reaction. I am gaining knowledge but there is so much chance involved.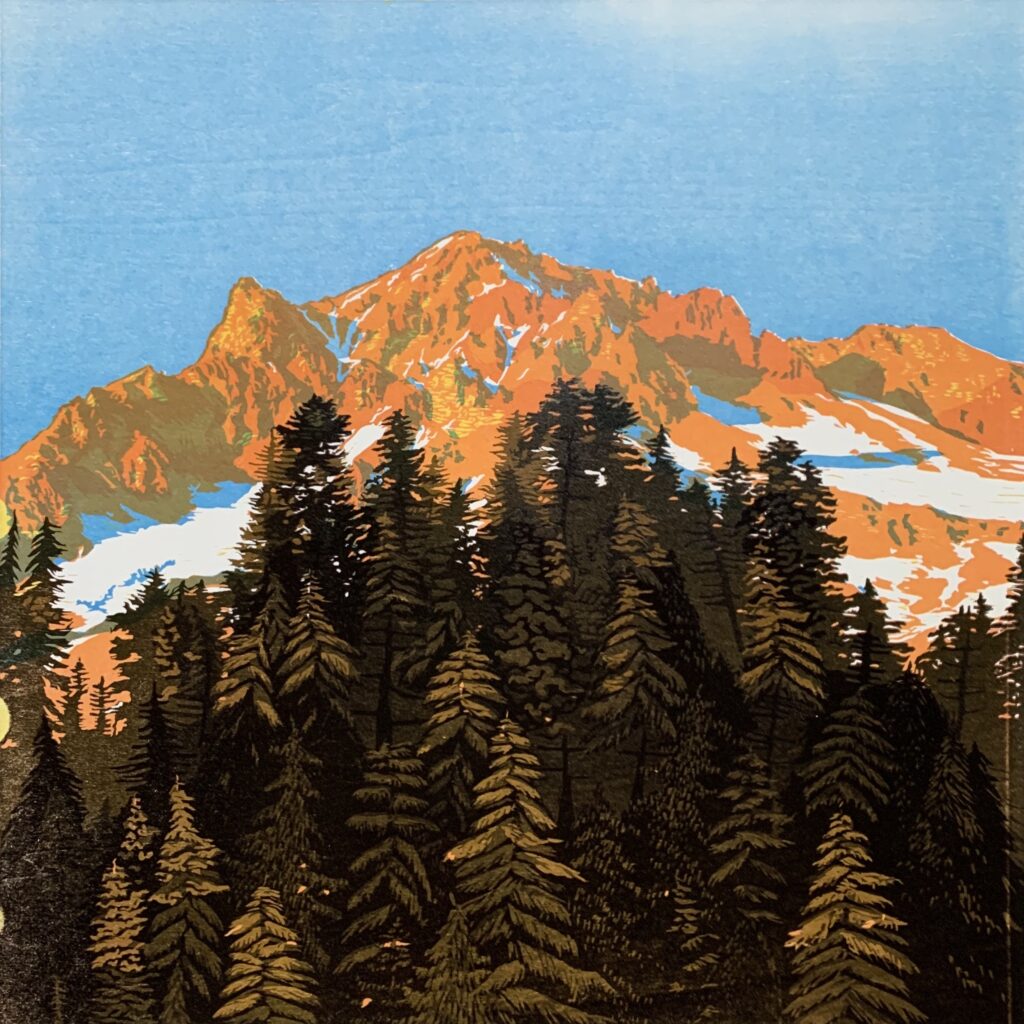 I finished my last print of Mount Hood's south face. This is an 8-color reduction print using two woodblocks measuring 14″ x 14″. The inspiration for this print was from a photo I took on my backpacking trip with Signal Fire in 2013. That trip instigated my curiosity to create a multilayered project honoring this mountain. I have a few extra copies of this print for sale. If interested, please contact me.
Another important element of this project is story. In October, 2018 I attended a 3-day treaty Conference at the Museum at Warm Springs. If you have not visited this beautiful museum make sure to do so often. It is east of Mount Hood on the Warm Springs Reservation right off Hwy 26. Acclaimed poet, Elizabeth Woody is the executive director. While at the conference I had the pleasure of meeting Jefferson Greene, Táxshpash, Nimíipuu, Táix, Páiute, ku Shiwaníshma Bands of the Pacific Northwest and member of the Confederated Tribes of Warm Springs. We met in December and I showed him my mock-up of the project. Jefferson has been instrumental in introducing me to elders of Warm Springs. After receiving a Regional Arts and Culture Project Grant in June of 2019 I was able to secure funds to compensate elders and Jefferson for their time. I met with five elders over the course of several months. They contributed to my project by sharing their culture and stories. Jefferson shared three legends (that I will letterpress-print) to introduce the viewer to the mountain. Oral transcriptions and other stories written by Myra Johnson-Orange, and her two granddaughters, will also be included in the project.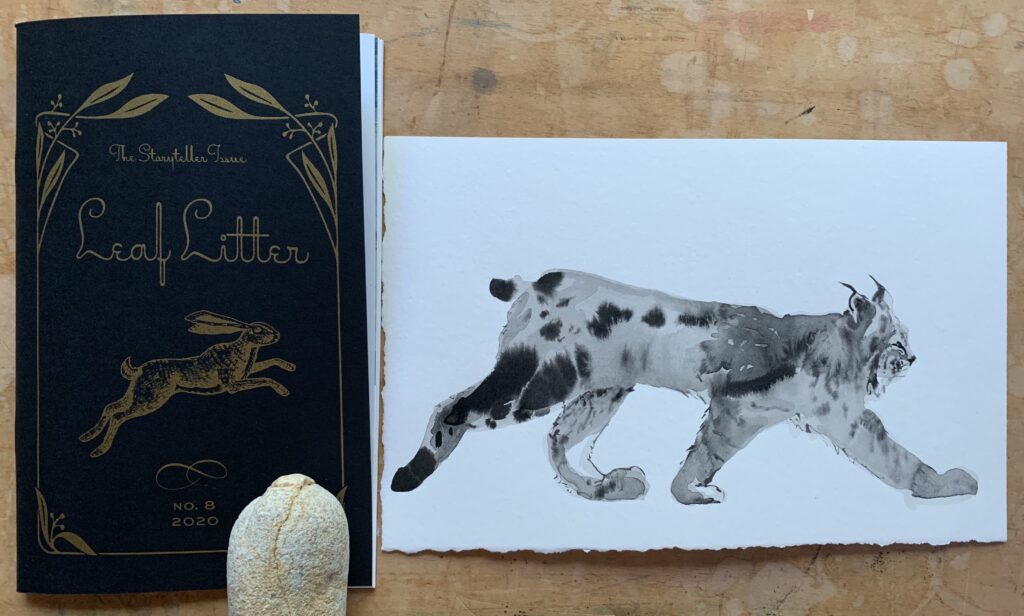 I was honored to have my lynx Sumi ink drawing included in The Storyteller Issue of Leaf Litter no. 8 2020. It Includes a feature essay by Carolyn Finney, writing and poetry by Val Dunn, Anna Ialeggio, Caroline Kessler, and Brytnee Laurette, and artwork by M Acuff, Miguel Arzabe, Caroline Hadilaksono, Wendy Given, Issac Logsdon, Lesly Yobany Mendoza, Susan Murrell, Pepper Pepper, and Kerri Rosenstein. Leaf Litter is a regular publication featuring the Signal Fire community. More at www.signalfirearts.org.
A special thank you to the editors Amy Wheeler Harwood and Daniela Naomi Molnar for all of their hard work.
Interwoven Alphabet the collaboration between Alisa Banks and myself was included in The Art of the Book: Fifteenth annual exhibition of handmade artist boooks, altered books and book-related materials at the Seager/Gray Gallery in Mill Valley virtually from May 1 – June 30, 2020.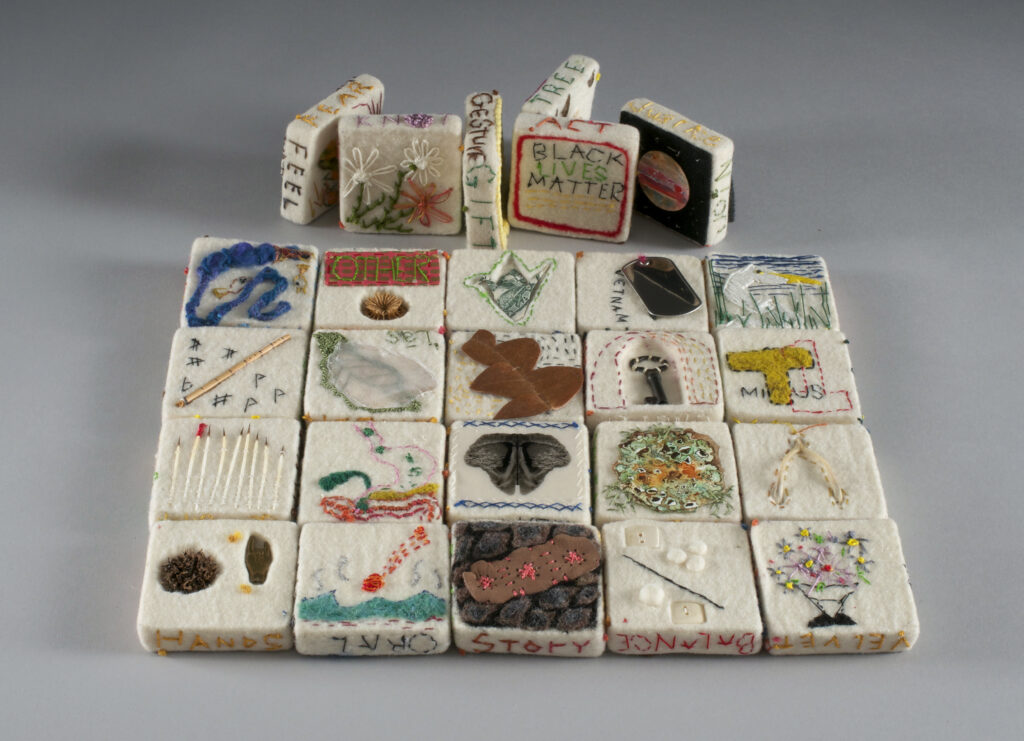 Stay tuned for when the actual work will be on display in the future. Thank you Donna and Suzanne for this opportunity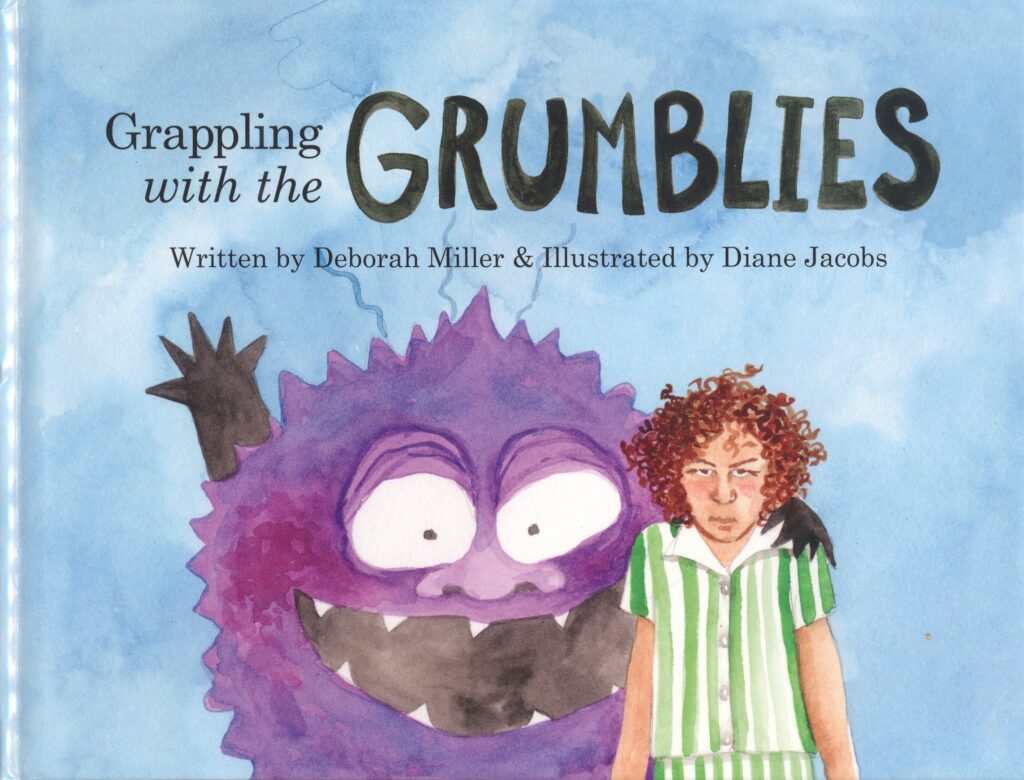 In 2006 my cousin Deborah Miller and I embarked upon a collaboration, Grappling with the Grumblies. Deborah had written the story and I asked if I could illustrate it. We met-up in Calgary, Ontario to storyboard ideas for each page. Several months later we met again, this time in Vancouver B.C. where I showed Deborah the first mock-up of the book's illustrations. Then a few years go by… Deborah in search of a publisher and me busy working on other art projects… until I get the call 'we need the illustrations now!' Jesse the main character changed drastically from my first rendition modeled after Lizzy (Deborah's daughter). In the end, Jesse was a combination of me as a child and my two boys (Max and Zusse) and the mom in the story was depicted after Deborah. I wanted Jesse to be able to be seen as a girl or a boy. Since its first printing in 2009 in hardback there has been a second printing in paperback by Frontenac House Ltd in 2013 (thanks to Deborah's hard work). You can buy your copy here. Watch a video of the story being read by Deborah here. Deborah published her second children's book Juggling the Jitters with illustrations by Danielle Bazinet, also in 2013.
There is a Free Mt. Hood campaign led by Bark to update Mt. Hood National Forest's Management Plan which hasn't been updated for 30 years. I have joined the committee and will give you updates periodically. Here is a synopsis from their website: The current management plan emphasizes converting mature natural forest into managed plantations over much of its one million-plus acres. Bark and their supporters believe that the forest should be managed according to the inherent value of the intact ecosystem and surrounding community's concerns and values (such as climate change, recreation, and clean drinking water.) Free Mt. Hood is a key campaign in our organizational vision to establish Mt. Hood National Forest as a national model of public lands management that prioritizes clean drinking water, wildlife habitat, and quiet recreation over short-term commercial gain through extraction of the natural resources. Bark does amazing work to protect the Mt. Hood National Forest – please help support their work.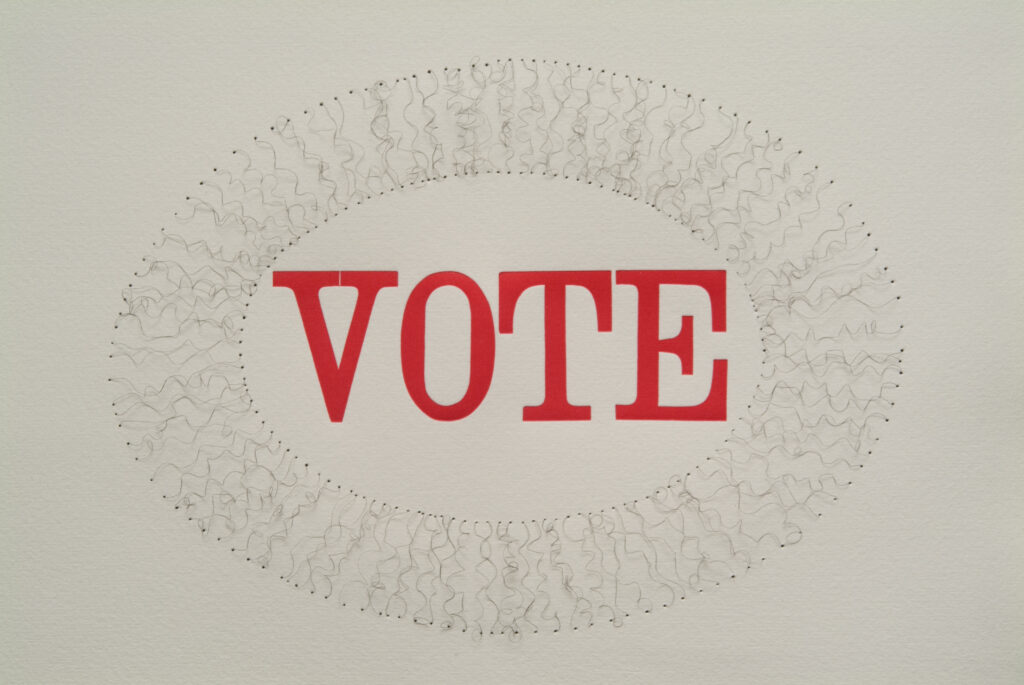 The most important thing we can do this November is VOTE! We have to get the current president out of office and vote in progressives, women candidates, people of color, who want change and will fight for racial, social and climate justice. Join me in pledging to VOTE for change come November.
Please stay safe and healthy!
Love
and solidarity,
diane