Owed to The Mountain book launch Nov. 12 &13, 2021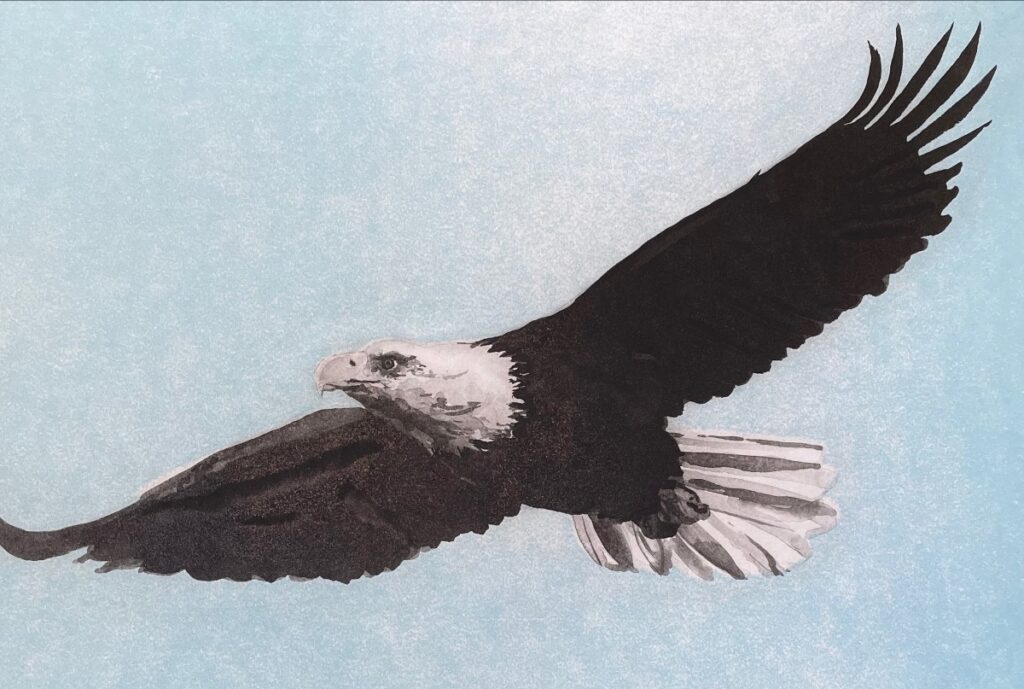 Book Launch and Showing of New Artist Book
Owed to The Mountain
Friday & Saturday, November 12 & 13, 2021
Passages Bookshop
1223 NE ML King Blvd., Portland, Oregon
503-388-7665
info@passagesbookshop.com
Thank you David Abel for this opportunity to display my project in your space.
Hours:
Friday 11/12, 5:00-8:00 pm
with a presentation by me at 7:00pm
Saturday 11/13 12:00-6:00 pm
I will be there during that six hour block of time hoping to see you
Please note: Masks will be required for attendance.
Owed to The Mountain is a sculptural artist book – a box that unfolds one leaf at a time revealing each of the four directions. The Mountain is featured in four different printmaking techniques: West face – etching, North face – wood engraving, East face – lithograph, and South face – reduction woodcut. There are four linoleum cut river prints and three handset, letterpress-printed Native stories from the Confederated Tribes of Warm Springs. The box opens flat and in the center a paper mountain peeks through a cloud layer held up by five tree trunks. There are three handmade paper mountain skins nested inside one another. The outermost layer is made with celadonite pigment and accentuated with white ink exposing words. The middle layer details the dwindling glaciers, and the innermost layer represents the volcanic strata. Beneath the mountain rests a fine press book weaving multiple Native voices underscoring the value of friendship, reciprocity, interdependence, and cooperation. Interspersed among the texts are etchings of animal ink drawings in various colorful ecosystems and habitats documenting the changing seasons.
Owed to The Mountain cultivates a powerful story that inspires knowing a place deeply, sharing Indigenous wisdom, and building a community that turns its love for a mountain into action. Mt. Hood has the 6th largest carbon stores of all National Forests in the country! By galvanizing a movement that advocates for the US Forest Service management plan to be updated, Mt Hood can be celebrated and treated as a living ecosystem and increase its climate resilience. Through this project's research, interviews, and spending time on the mountain I understand how important it is that we protect clean drinking water, promote wildlife habitat restoration, support forest maturation, and prioritize the vision and cultural traditions of Native communities, including the practice of controlled burns. We owe it to the Mountain.
Owed to The Mountain takes three forms: an eight-copy limited edition (a collapsible box holding a three-layered paper mountain with a copy of the fine-press book beneath), the fine-press book (a 32 copy edition numbered 9 – 40), and a digital edition of 250 copies printed at Morel Ink in Portland, Oregon. Copies of all three editions will be on display and available for purchase at Passages Bookshop, as well as single, original prints from the project.
Here is a sneak peek at some of the page spreads: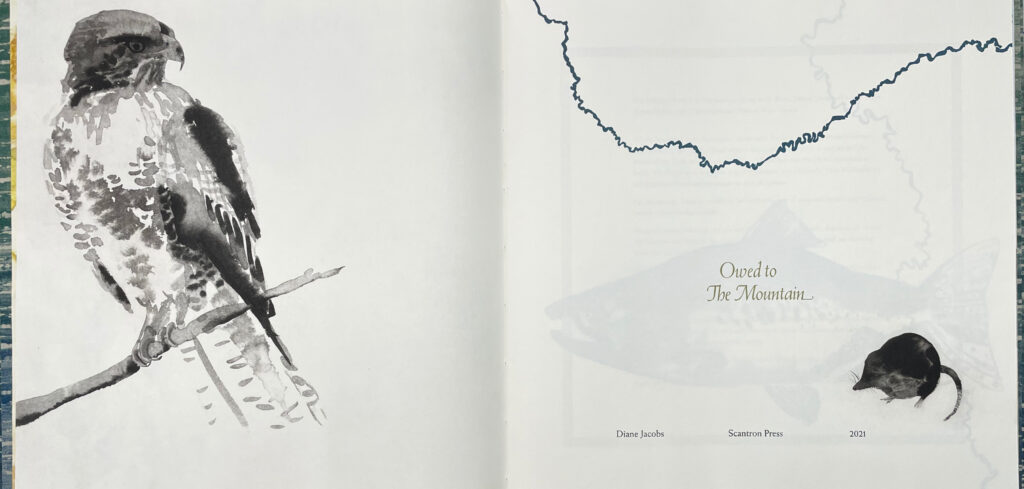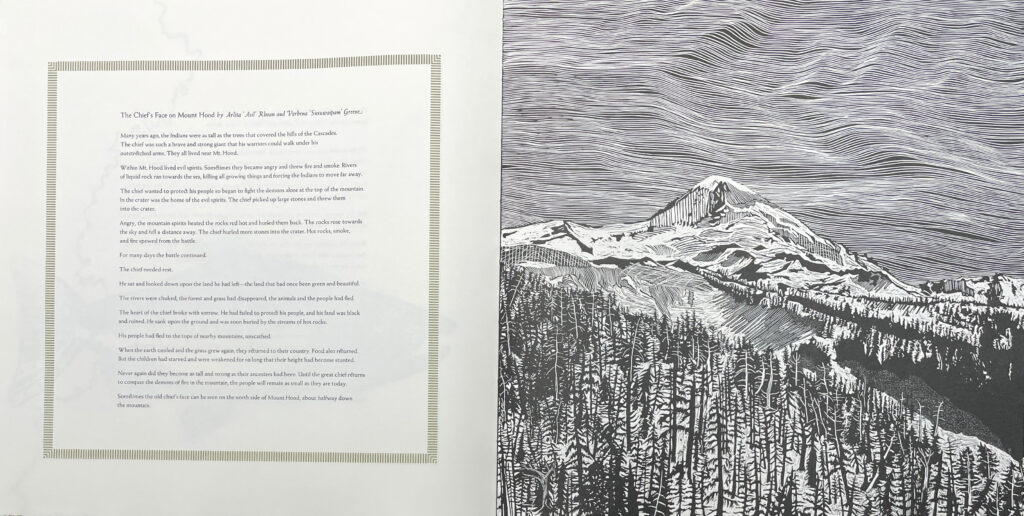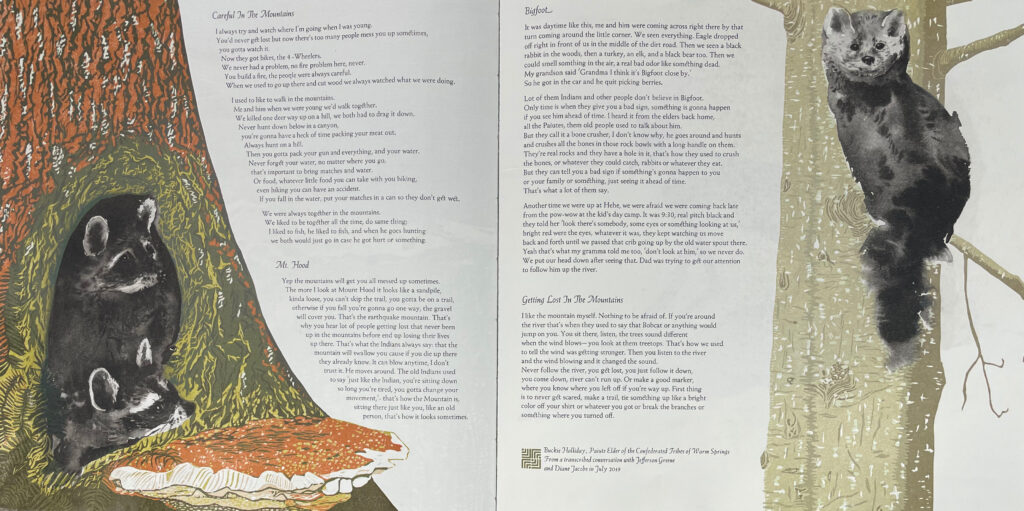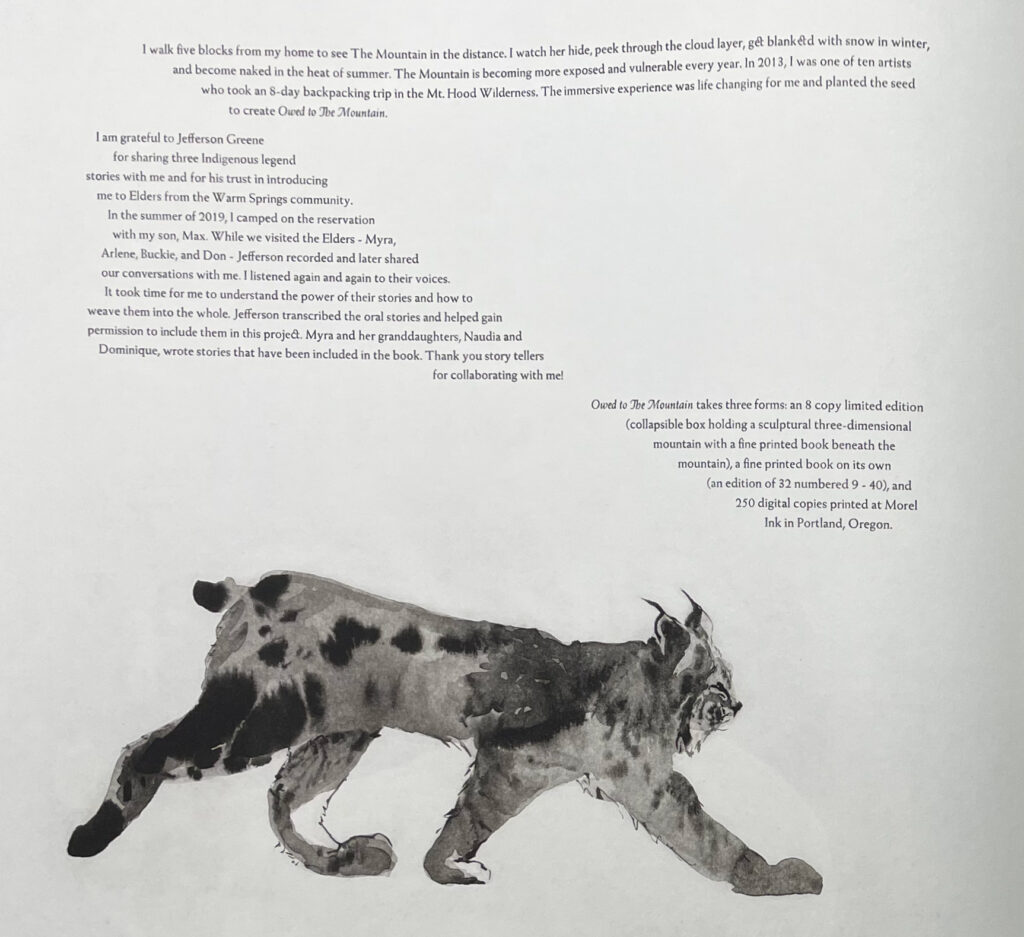 These images were taken on my phone but I will have this project professionally photographed and uploaded to my website in the coming month and I will share them with you in my next art newsletter.
Artist book enthusiasts, California friends, and family: I have reserved a table at CODEX VIII scheduled for April 10 – 13, 2022 at the Craneway Pavilion in Richmond, California. If you live in the area please mark your calendars and come say hello and take a look at Owed to The Mountain in person.
There are many people who have been a part of this project. I want to thank Jefferson Greene, Executive Director of CRÍID Foundation (Columbia River Institute for Indigenous Development) for introducing me to Elders from the Warm Springs community and for transcribing recordings taken during our visits. Thank you storytellers for collaborating with me: Buckie Holiday, Naudia Smith, Myra Johnson-Orange, Arlene Boileau, Dominique Walker, and Don Sohappy. Thank you: Rory Sparks for sharing binding knowledge with me and engineering the collapsible box; Jenn Woodward of Pulp & Deckle for making all three types of handmade paper for the mountain skins; Mark Burdon for cutting and drilling branches and making the circular display table; My print team at Atelier Meridian Jane Pagliarulo and Isabel Deaver and other helping clean hands Annie, Courtney, Sasha, Dan, Zusse, Fiona, and Megan; Mary Laird, my former professor of Book Arts, for typography inspiration; Katherine Shiver for sharing the world of eco printing with me; Scott Sutton of Pigment Hunter for teaching me about pigment harvesting; Susan Cheng for designing digital files for transparencies and laser cutting; Susan Fox Rogers as final editor; Dan Swerbilov as my confidant and type proof reader; Courtney Rae, Associate Director of Bark and Daniela del Mar, Communications Coordinator at Bark for their input and support.
Thank you to the following institutions, programs, and people for your financial support: Kala Art Institute (2017 Parent Award), Regional Arts & Culture Council (2019 Project Grant), The Round House Foundation (Pine Meadow Ranch Residency 2019), In Cahoots Residency (2019), Ford Family Foundation (2020 Career Opportunity Grant), Artadia, College Book Art Association, and Cynthia Sears.
A special thank you to my family for your love, support and belief in me during this creative journey.The saying it takes a village really applies here.
Thank you each and everyone of you who reviewed my project over these many years for your time, curiosity, and feedback. You influenced the direction of the book.
with love,
diane