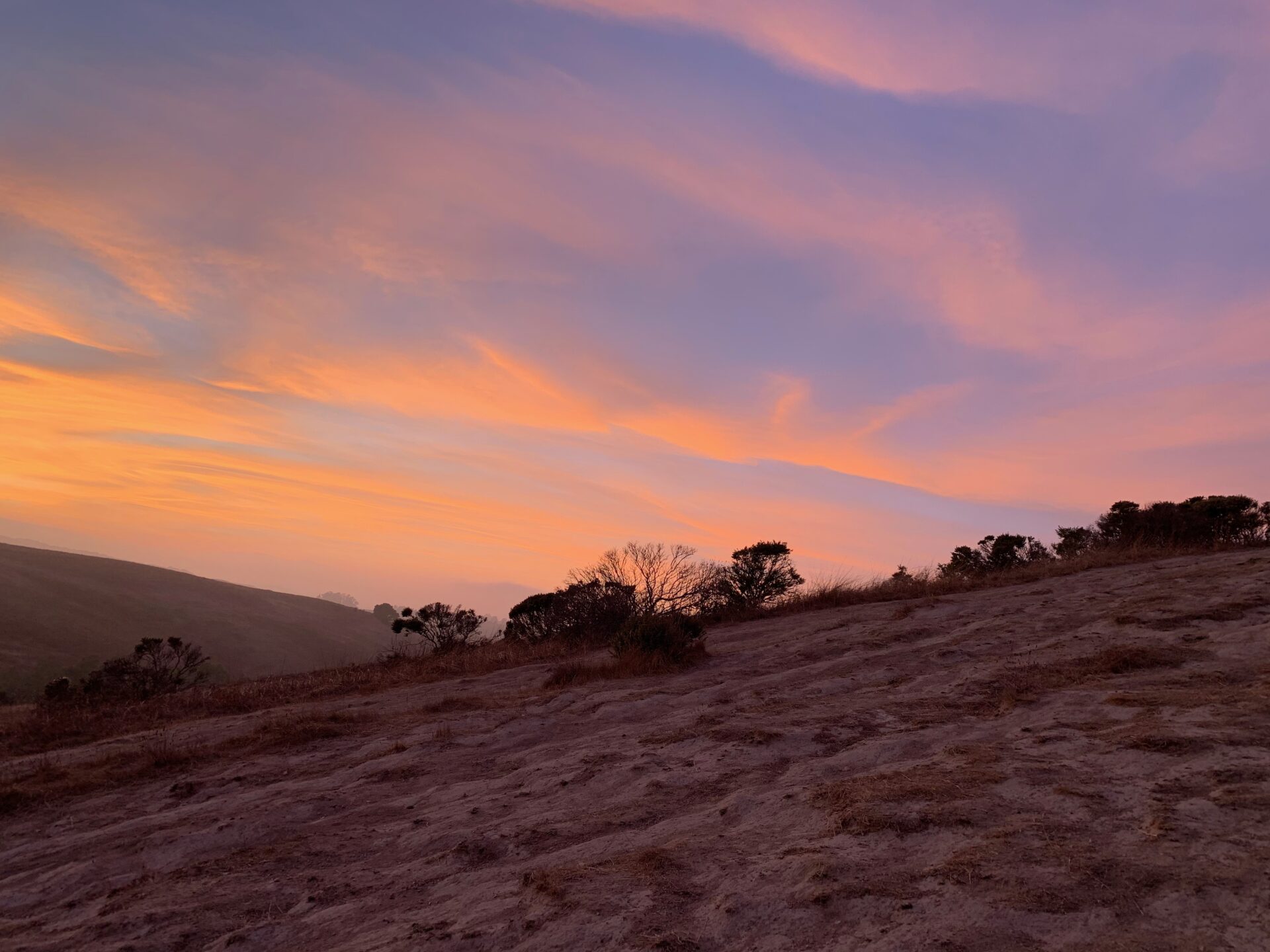 ART NEWS 2020 from Diane Jacobs
2020
We Need Change!

In this email:
Snap shots from my special time in New Orleans for the 2020 College Book Arts Association Conference INTERSECTIONS: Paper Machine; glimpse of the Mississippi River (I learned it is 200 feet deep); Amistad Research Center on the Tulane University Campus; majestic live oak trees; light blue house with ultramarine blue car parked in front; St.Roch Cemetery #2; delicious crab and arugula salad from the St. Roch Market; John Gargano – Ashetu Mind, 2017 at the Ogden Museum of Southern Art; I had a great time with Alisa Banks rooming together, taking the street car, walking, presenting at the conference, and eating; Mickalene Thomas' Le déjeuner sur l'herbe: Les Trois Femmes Noires, 2010 at the Contemporary Art Center; Infamous French Quarter; St. Roch Cemetery #2; scrumptious oysters on the half shell, Members Juried Exhibition – detail of Maureen cummins' AlieNation/SepaRation, 2019; lovely afternoon with Allison Milham; Sunset from the rooftop at the Ace Hotel! Kudos to the organizers of this conference! I found it to be more inclusive with an emphasis on breaking down institutional bias and giving rise to decolonization. The speakers were inspiring. Jeffery U. Darensbourg gave the native land acknowledgement and told us that BULBANCHA – " the place of many languages" or " the place of many tongues" is the original name for this area. He created two zines which I now have: Bulbancha is still a place Indigenous Culture from New Orleans – Issues #1 & #2 The Tricentennial Issues. Rachel Brunlin and Bruce Barnes shared their collaborations that partner with the Neighborhood Story Project. The keynote speaker was Rebecca Snedecker who co-authored Unfathomable City: A New Orleans Atlas with Rebecca Solnit. She did an amazing job describing the project and finished with an experiment. She baked a visual and sensorial cake that she shared with all of us and we devoured it.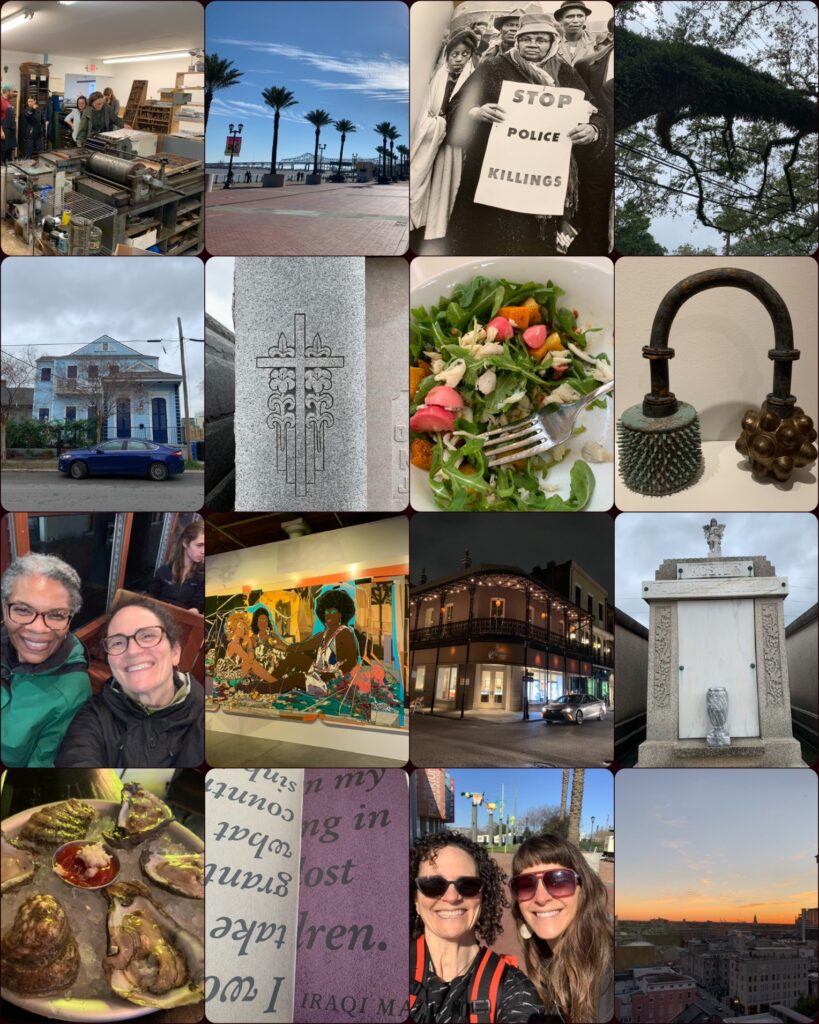 I am honored to have been the spotlight ARTADIA awardee for the month of November. Here is a link to my interview with April Swanson.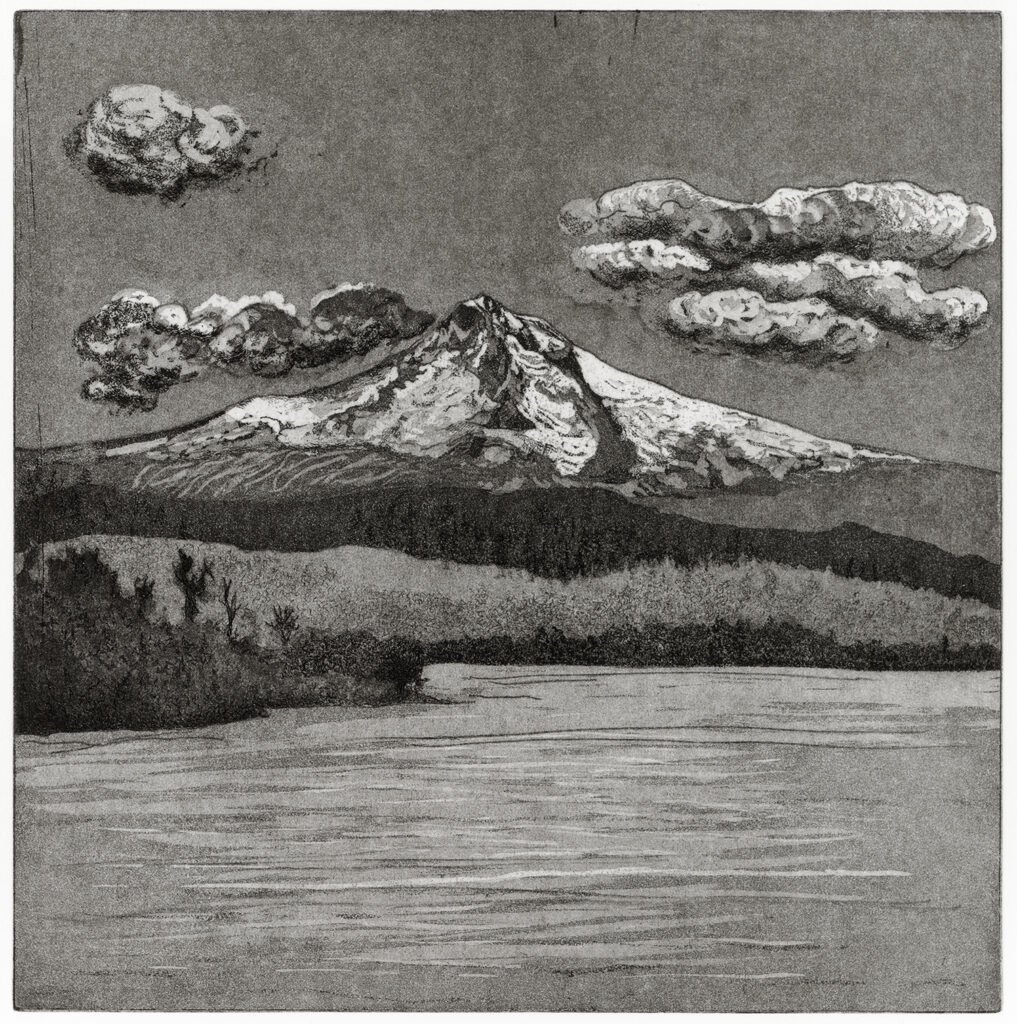 Etching of the West face of Mt. Hood made for my latest artist book during my two week artist residency at In Cahoots.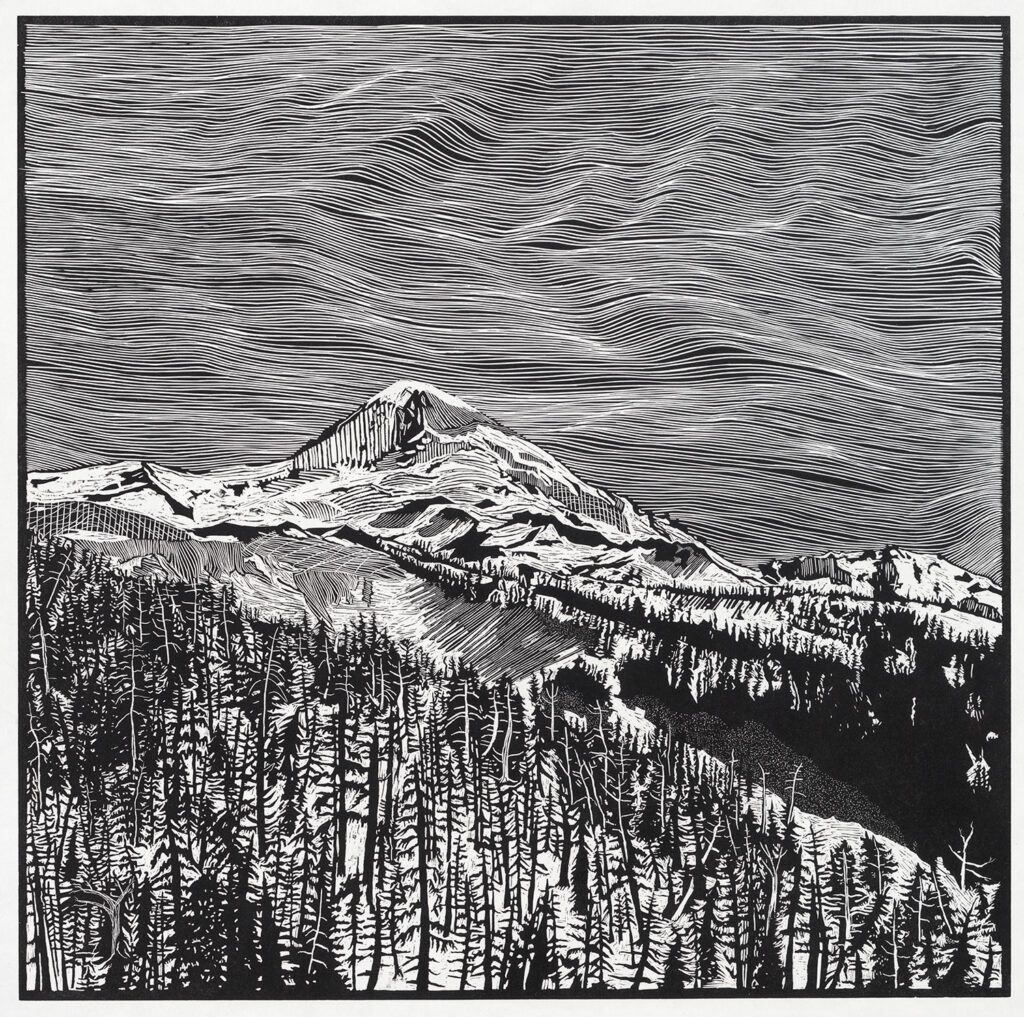 Wood engraving of Mt. Hood's North face started during my In Cahoots residency and finished at home. It too will be part of my latest artist book project.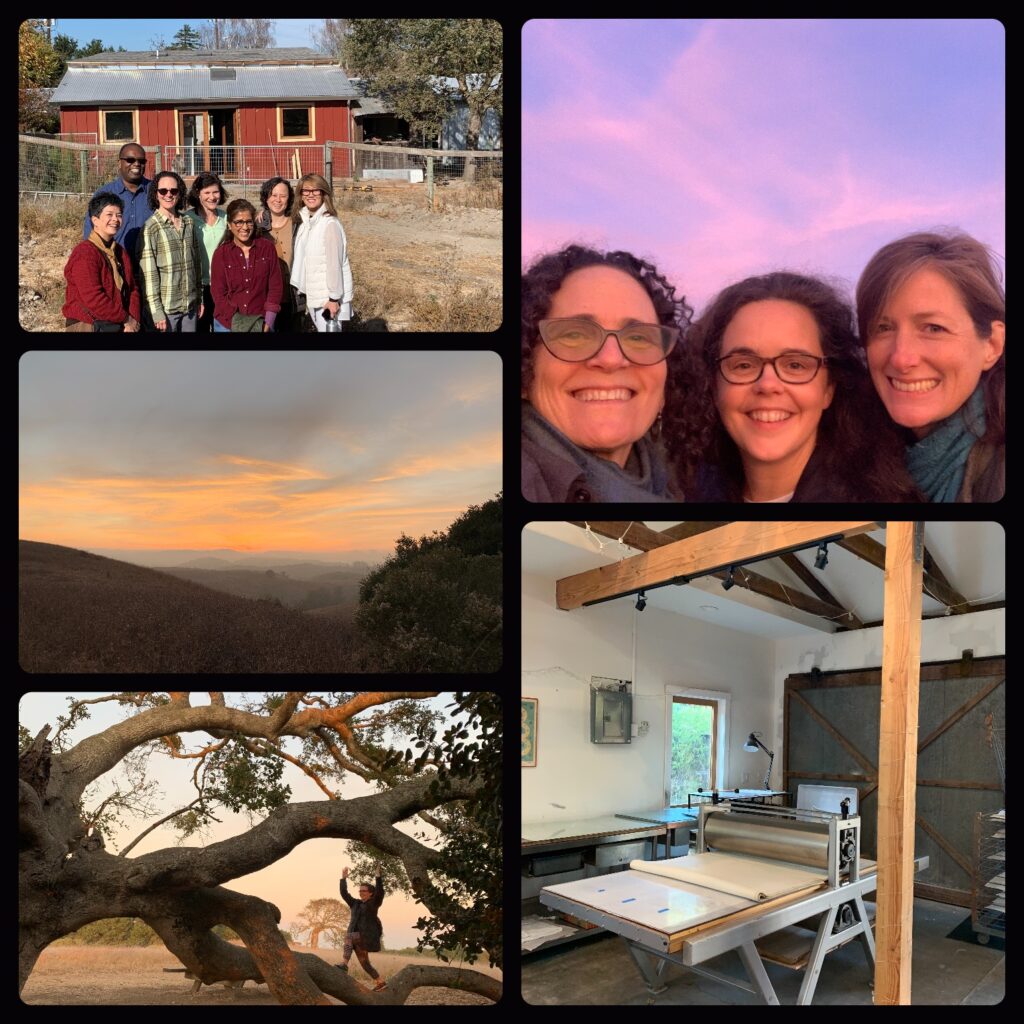 I had an amazing time in Petaluma at the In Cahoots residency in November 2019. Macy Chadwick is pure sunshine and a generous host. The location is beautiful with interesting neighbors from the animal kingdom – emu and horses, and a fully equipped print studio. It was a pleasure getting to know Lillis Taylor, an artist from Birmingham, Alabama also working at In Cahoots. I miss California and my old time friends. We had a mini reunion from UC Santa Cruz days which warmed my heart. Thank you each and everyone of you I saw during my time in my home state for making the effort to see me.

Kelly James photographed my installation, WAKE and Karl Lind made a short video to give you an idea of the show. Here are a few more images from my exhibition Oct. 3 – 30, 2019 at the Annex in The Bush Barn Art Center in Salem, Oregon.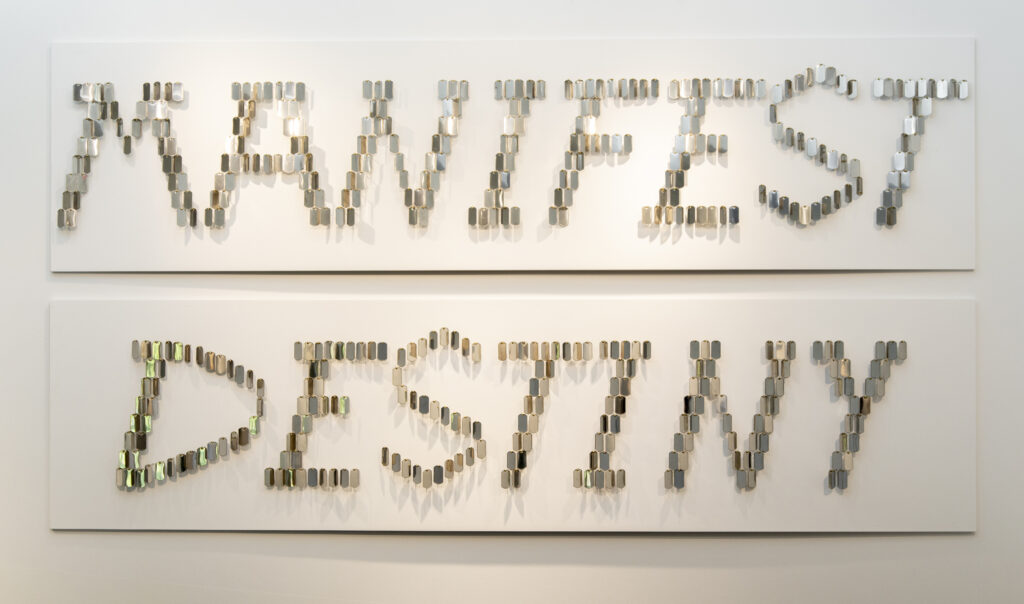 Genocide – military dog tags, brass nails, 51" x 96", 2019. "Under this legal cover for theft, Euro-American wars of conquest and settler colonialism devastated Indigenous nations and communities, ripping their territories away from them and transforming the land into private property, real estate." Roxanne Dunbar-Ortiz, An Indigenous Peoples' History of the United States, p. 198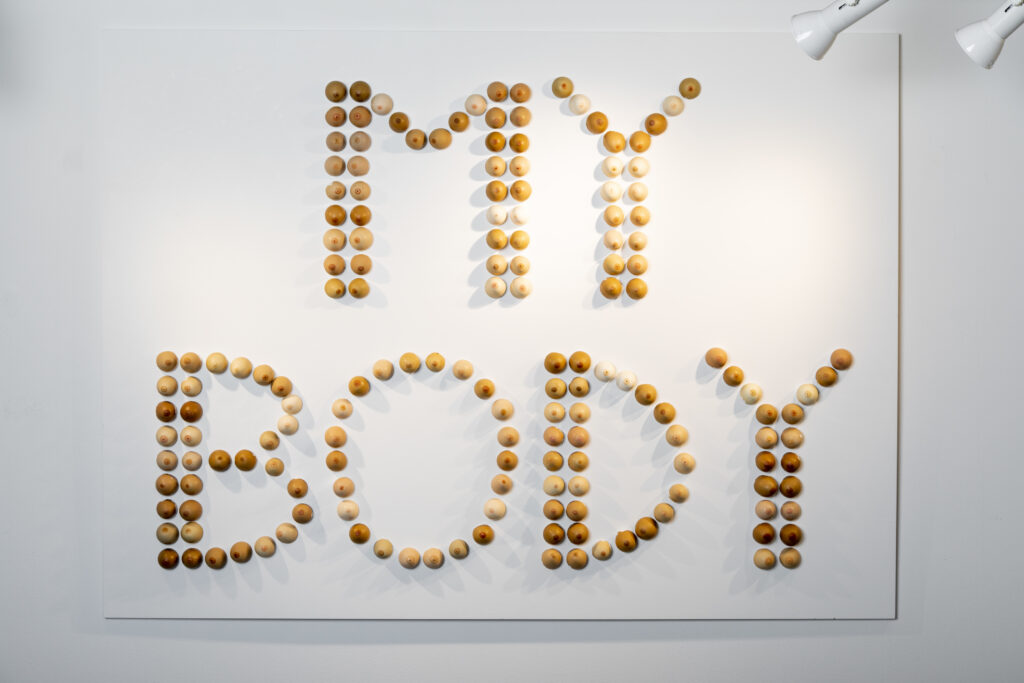 My Body – chicken egg shells, oil paint, plaster, screws, 48" x 65", 2019. Feminism has to be a part of the discussion. We can't talk about equity and environmental justice without having authority over our own bodies. The Equal Rights Amendment has still not been Federally ratified. The egg breasts are repurposed from my installation HOMAGE in 2016. They are Amazon warriors' breasts. Thank you to La Finquita del Buho for the incredible array of chicken egg shells.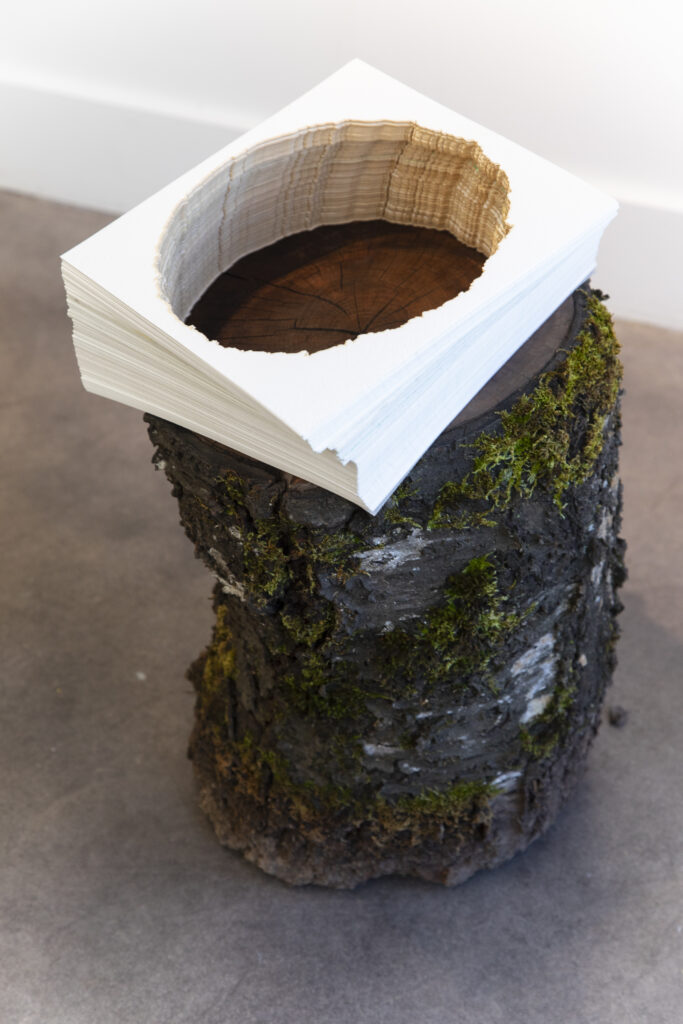 Stop Trump – Cherry tree stump, laser cut paper, 24" x 12" x 12", 2019. Special thank you to Lyn and Juvencio for donating the cherry stump and Times4 for laser cut remnants.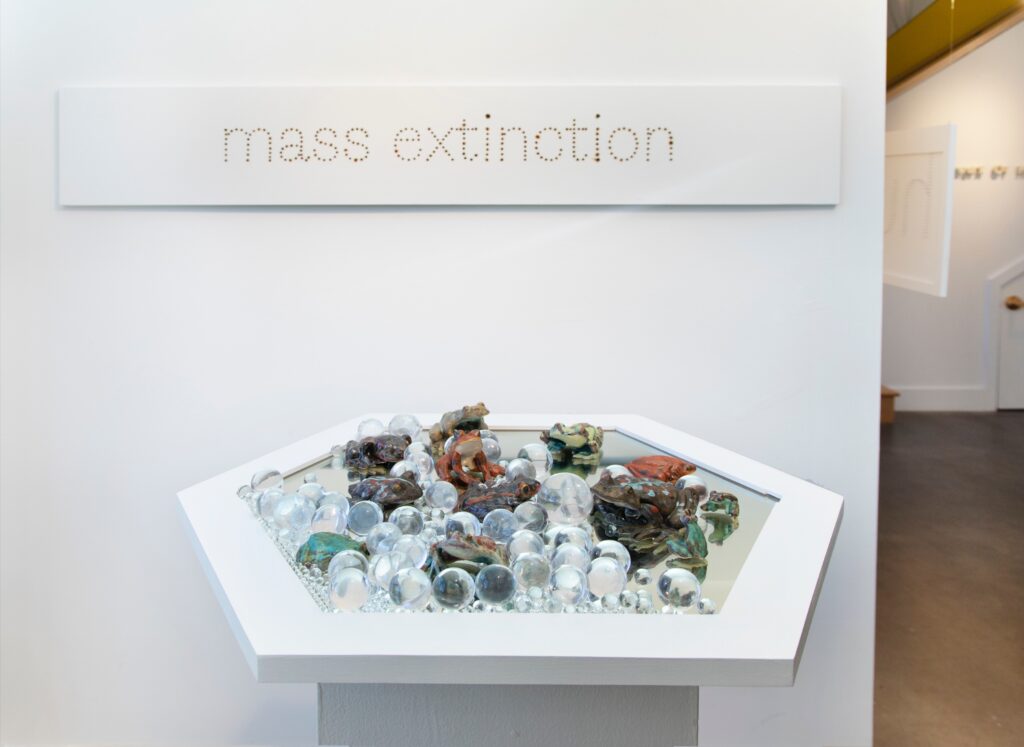 Indicator Species – mirror, ceramic, acrylic and glass balls of varying sizes, 23" x 23" x 4", 2019. An estimated 43% of amphibian species are in danger of extinction. Amphibians breathe through their skin making them vulnerable to pollution. Habitat loss from deforestation and lack of clean fresh water all contribute to their demise.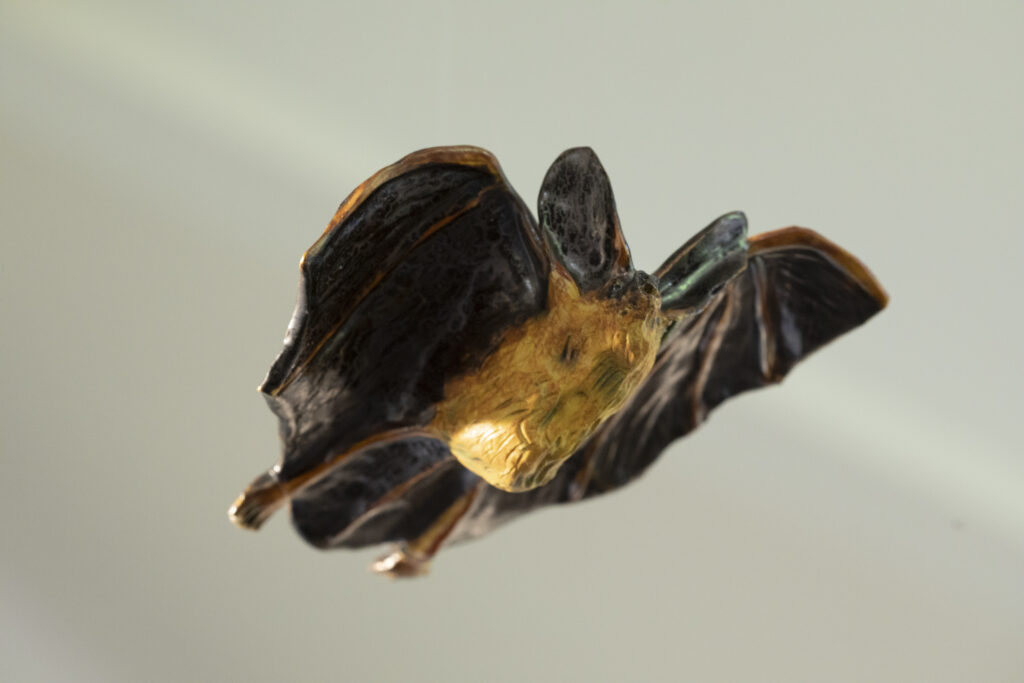 Flying Bat #1, ceramic, 2019. White nose syndrome has been having a devastating impact on bats in the United States. Bats eat between 6000 and 8000 mosquito size insects each night.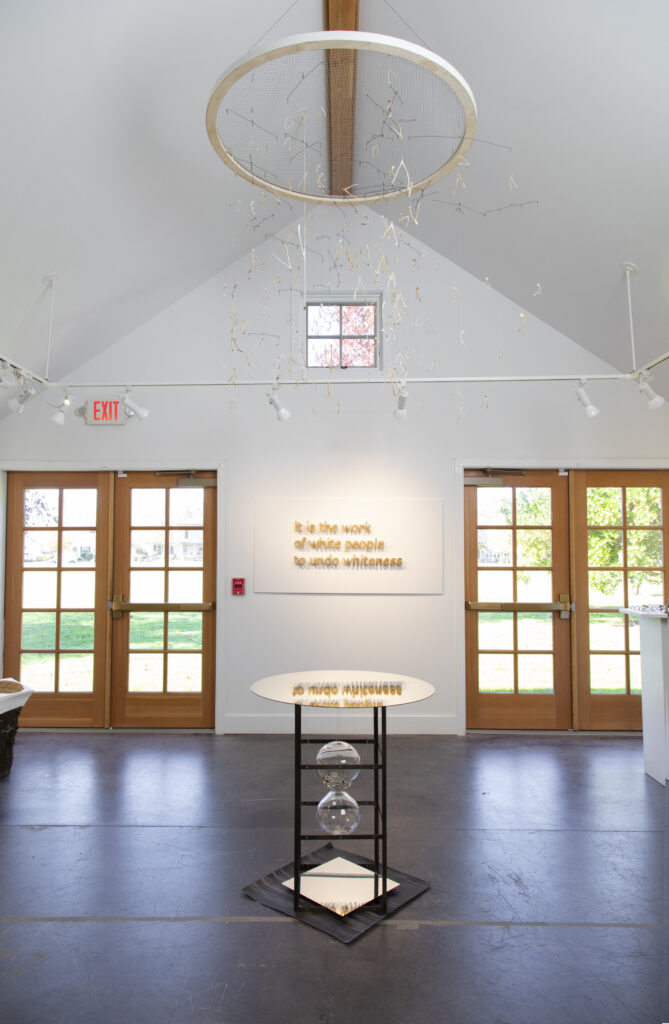 Hope – poultry wishbone mobile, 4' x 4' x 55", 2018.

The work of white people – matches, 30" x 60", 2019. Quote from DeRay Mckesson's book On the Other Side of Freedom: The Case for Hope. Calling out white privilege, the tension, the danger… how quickly that conversation could go up in flames.Time Bomb – steel, handblown hourglass, cigarette butts, mirrors, 34.5" x 32" x 32", 2019. Just as cigarettes poison our bodies – we are polluting the air, water, and earth. I am using cigarette butts because I want to point to the irony and complete disrespect. Traditional tobacco may be used as an offering to the creator, medicinally and in ceremony by indigenous people. Cigarette companies have abused the tobacco plant by genetically modifying it to have twice the amount of addictive nicotine and to have added cancer causing chemicals – all for profit.
These are scary times
Global climate instability
Volatile president threatening war
xenophobia madness
Wishing for peace,
solidarity
thank you for your interest
love,
diane