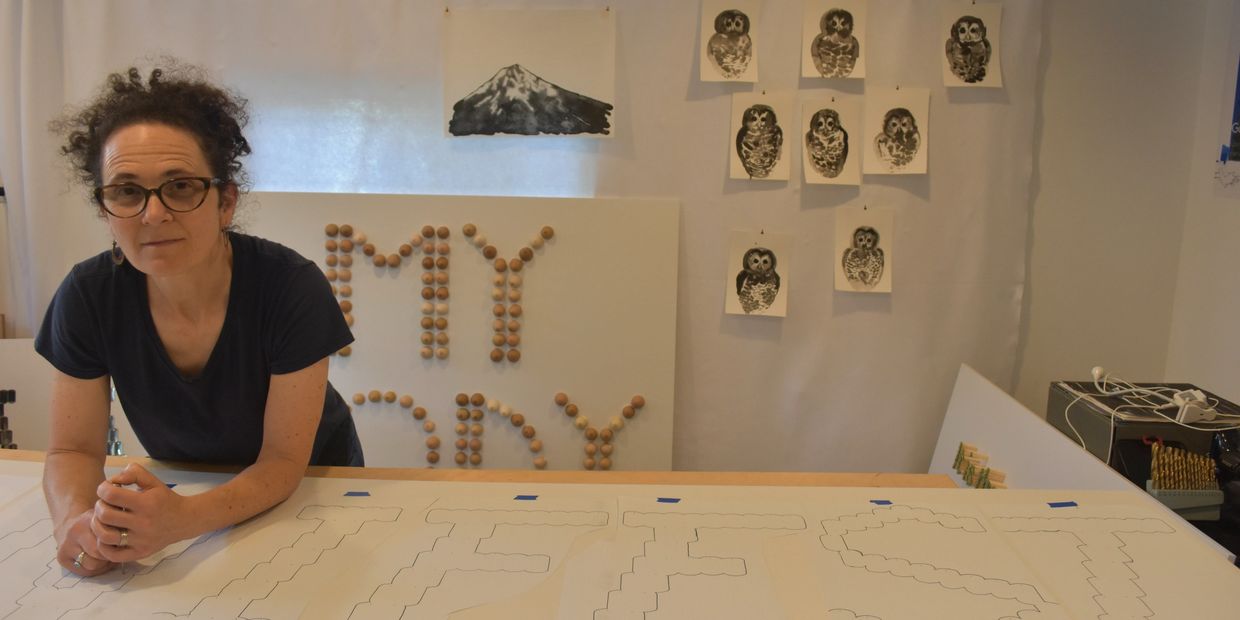 I use materials that surprise and stimulate associative and visceral reactions in an effort to interpret society and initiate change. Through my creative process, I examine and convey the complexities, contradictions, and injustices of our world. My intention is to spark curiosity in the viewer and use that fire to ignite further self-reflection and action.
I use my hands, my heart, and critical thinking to make artist books, installations, mixed-media sculptures, and works on paper utilizing printmaking and drawing.
I make connections between all living beings to try and understand the intricate ecological balance; I listen to the silence of our climate crisis and try to find the courage to move the conversation from me to us; I feel women's rights as human rights; I see white privilege needing to be part of every discussion; I believe our relationship to home can protect land; I utilize intimacy, humor, imagination, irony, urgency, and agency.
Artist books are sculptural and they unfold over time; they can have text and imagery or not; they tell a story; they layer content with transparent ink/translucent paper; they dive deep to explore a particular topic. An artist book can take many years to complete, so sometimes I take these dense intimate explorations and nurture them to grow into installations, where the viewer enters the work and becomes part of the work.
I am fascinated by materials. I balance wishbones, I carve woodblocks, I set metal type, I weave human hair, I play with words, I burn poetry in magnolia leaves, I twist wire, I cast shadows, I print plants, and I sculpt clay.
I draw animals with Sumi ink in search of capturing their essence: one dark eye, one bright; the bend of an ear; the comical stride leaving footprints in the snow; a scurrying shrew; a keen sense of smell; locking eyes with a mountain cat.
Born in Southern California in 1966, Diane grew up surf fishing, creating potions, and drawing incessantly. At age 12, she and her family traveled to Japan, planting the seed for a lifelong interest in cross-cultural understanding. As an undergraduate at the University of California, Santa Cruz, she discovered her deep connection to forests, feminist thinking, and social justice—her work continues to be informed by the cross-pollination of these elements.
She received her MFA in printmaking from San Francisco State University in 1996, during which time she received a Leo D. Stillwell Graduate Scholarship (1995). After finishing her degree, she was awarded a James D. Phelan Award in printmaking (1997) and a Kala Art Institute Fellowship (1997). In 1999, she was granted a Women's Studio Workshop Artist Book Residency. In 2000, Jacobs received a prestigious Artadia award while living in San Francisco, CA. After moving to Portland, OR in 2002 Jacobs received four Regional Arts and Cultural Council Project Grants (2019, 2012, 2008, and 2005). She also received two RACC Professional Development Grants (2009, 2014) and a Career Opportunity Grant from the Oregon Arts Commission in 2010 and with additional funding from The Ford Family Foundation in 2015 and 2020. Diane has been selected for several residency opportunities: Signal Fire's – Alpenglow Artist Backpacking Residency (2013) & Hart Mountain: Great Blanket of Stars Artist Campout (2017), PLAYA artist residency (2016) ), Kala Art Institute Parent Residency Award (2017), Golden Spot Award – Leland Iron Works Artist-in-Residence (2018), Pine Meadow Ranch Artist-in-Residence (2019), In Cahoots Artist Residency (2019), and a 2020 Travel Assistance Grant from the College Book Art Association to attend the 2020 CBAA Conference in New Orleans where she presented with colleague Alisa Banks. Jacobs received an Artadia Grant for past awardees in 2020 and CBAA awarded Diane a Support Grant in 2021.
Diane lives in Portland, Oregon with her husband and two sons (who are now away at college). Her prints, sculptural work, and artist books are in The Portland Art Museum, The Getty Research Institute Library, SFMOMA, the De Young Fine Arts Museum, Achenbach Foundation, The New York Public Library, the Library of Congress, Walker Art Center, Savannah College of Art and Design, University of Alberta, University of Chicago Library, University of Miami, Corcoran School of the Arts & Design, Yale, Stanford, and Reed College among others.